Back to School: Queen Creek Unified School District Adults Earn Degrees, Certifications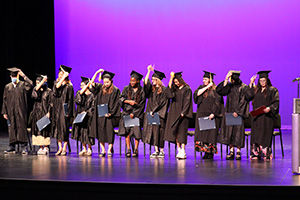 A unique class from Queen Creek Unified School District (QCUSD) is ready for the next step in their career after celebrating their graduation. The Family Resource Center (FRC) hosted an end-of-year ceremony for 89 adult students this week. 
This year's group represent more than 23 countries from around the globe, with 59 completing the English for speakers of other languages program (ESOL), 19 in the integrated education and training (IET) program, and 11 students are receiving their GEDs with the high school equivalency (HSE) program.
Students who opt in to classes attend as long as they need to complete their programs.
"Some students attend for a couple of months while other students attend for a few years," says Maria Silva, Family Resource Center director. 
While each class is designed to achieve certain certificates and goals, the experience also helps build confidence in the adult learners. 
Jazmin Porchas Campa was an ESOL and IET student and says the program has helped her accomplish three certifications in three years.
"I had the need to communicate with people around me and be part of the community," says Campa. "Being part of the program is one of the best things that has happened in my life. I have met extraordinary people, both teachers and classmates." 
Campa plans to enter the job field and search for a full-time job.
The FRC's end-of-year ceremony was on Tuesday, May 30, 2023, at the Queen Creek Performing Arts Center. 
All of us in QCUSD would like to say "congratulations" to the 89 students who have accomplished and finished programs with the FRC. 
For more information or to enroll in adult education courses, please visit our Adult Education Program page.