Adult Education Program
Since 1995, Queen Creek Unified School District has offered adult education classes to learners ages 16 and over who are not enrolled in a K-12 school. Through the years, the district has maintained its commitment to providing educational opportunities which permit adult learners to increase their English language skills; obtain their High School Equivalency (HSE) diplomas; and gain access to quality educational opportunities to support employment, job training, and higher educational goals, and competency in the technological world. We meet the educational needs of adult learners by utilizing curriculum designed to address diverse educational and cultural backgrounds. For more information, please contact us.
Queen Creek Adult Education Classes
Adult Basic Education (ABE) classes: prepare students to pass the GED exam and/or improve their reading, writing, and mathematical skills.
English for Speakers of Other Languages (ESOL) classes: provide instruction for people who desire to learn or improve their English language proficiency in order to enter the workforce or pursue post-secondary opportunities.
Integrated English Literacy and Civics Education (IELCE) classes: provide educational services to English language learners to acquire skills needed to function effectively as parents, workers, and citizens in the United States.
Integrated Education and Training (IET) classes: provide adult education and literacy activities concurrently and contextually with workforce preparation activities and workforce training for a specific occupation or occupational cluster for the purpose of educational and career advancement.
Class Formats: All classes utilize blended learning which combines traditional classroom methods with an online learning platform. Classes are offered in several different formats:
Traditional: Students attend classes in person
HyFlex: Students have flexibility in attending classes in person or joining a live class virtually via phone, tablet, or computer.
Are You Interested in Taking a Class?
Fill out the following interest form:
Awards and Recognition
Registration Fees -
Fees Waived this FY24
Registration fees range from $30.00 to $50.00 per income depending on family size and income level. See our fee table for more information. Registration fees are non-refundable. Please make payment at the time of registration only by money order, cashier's check, or cash. No personal checks, please. If you have any questions regarding the registration fee, contact the adult education program director of instruction at (480) 987-5988.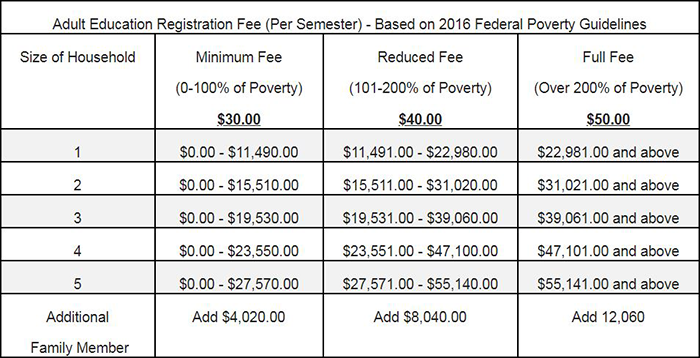 For Students
Class Schedules:
The following is a list of collapsible links. After selecting the link, additional content will expand. Arrow down to read the additional content.