QCUSD High School Options
If you have a question or concern for one of our schools, please don't hesitate to contact them. Visit each school's website for more detailed information. Every Wednesday is an early release day.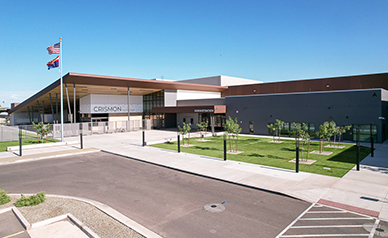 21942 East Riggs Road
Queen Creek, AZ 85142
Main Office Line: (480) 987-5580
School Hours:
First Bell: 7:20 a.m.
Tardy Bell: 7:25 a.m.
Dismissal Time: 2:15 p.m.
Early Release: 12:15 p.m.
Office Hours: 7:00 a.m.–3:15 p.m.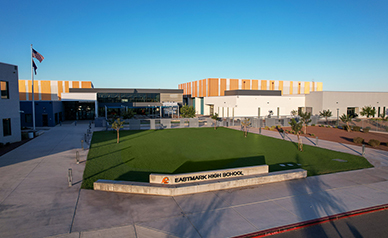 9560 East Ray Road
Mesa, AZ 85212
Main Office: (480) 474-6950
Attendance Line: (480) 474-6955
Fax: (480) 474-6970
Registrar: (480) 474-6952
School Hours:
0 Hour: 6:30 a.m.
1st bell: 7:20 a.m.
Tardy bell: 7:25 a.m.
Dismissal: 2:15 p.m.
Early Release: 12:15 p.m.
Office Hours: 7:00 a.m.–3:15 p.m.
Virtual Tour of Eastmark High School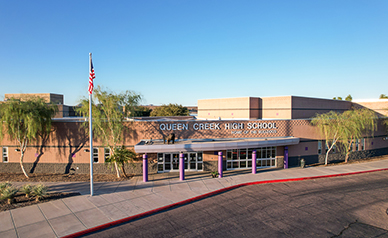 22149 East Ocotillo Road
Queen Creek, AZ 85142-7750
Phone: (480) 987-5973
Attendance Line: (480) 987-5967
Fax: (480) 882-1276
School Hours:
0 Hour: 6:30 a.m.
1st bell: 7:20 a.m.
Tardy bell: 7:25 a.m.
Dismissal: 2:15 p.m.
Early Release: 12:15 p.m.
Office Hours: 7:00 a.m.–3:15 p.m.
Virtual Tour of Queen Creek High School
QCVA Office: (480) 987-5564
QCVA Fax: (480) 655-6215
District Office: (480) 987-5935
Email: qcva@qcusd.org