Safe and Healthy Environment
In QCUSD, providing a safe and healthy environment is one of our top priorities. We ensure safety for students and staff by focusing on the following:
Ensuring a secure and healthy environment


Each of the QCUSD schools have security and safety features on campus. This includes:


Bullet-resistant glass in receptionist area
Single-entry security access
Interior locking doors for every classroom
Routine lockdown drills and practices

QCUSD practices a Clean Schools protocol to ensure each site's cleanliness and continuous improvement with routine evaluations.

Teaching kindness, respect, and integrity


QCUSD incorporates the Positive Behavioral Interventions and Supports (PBIS) program into schools and classrooms. This program helps improve and support students' academic, social, emotional, and behavioral successes. To learn more about how PBIS helps our schools, visit the official PBIS page.

Providing connections, skills, and educational opportunities


QCUSD staffs full-time counselors on every elementary campus and two to four counselors in junior high and high schools based on enrollment.
College and career advisors are available in all high schools.
Threat assessment (self and others) training is required for school administrators and counselors.
ALICE (Alert, Lockdown, Inform, Counter, Evacuate) training is required for all QCUSD staff.
Conflict resolution and de-escalation training is required for school security.

Bringing awareness to mental health


QCUSD employs dedicated school psychologists and counselors to serve students' mental health needs.
QCUSD provides regular opportunities for parents to learn about topics such as supporting mental health, drug prevention, coping skills, and more.
Suicide prevention training is required for all secondary school staff.
QCUSD partners with Community Bridges for a variety of student support resources.

Enhance diversity-related educational opportunities


QCUSD offers diverse programs including foreign language, English language learners, gifted, special education, and opportunities through clubs like Girls Who Code.
School Resource Officers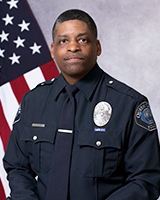 John Allen
Queen Creek High SRO
P: (480) 987-5939
Biography
About John Allen
I have been in law enforcement for 27 years, serving as a correctional officer for four of those years. I have served as a field training officer, juvenile officer, accident investigator, evidence technician, crime scene investigator, undercover narcotics officer, police bicycle officer, general instructor, taser instructor, narcotics canine handler, crisis intervention officer, and crisis negotiator, and I am currently assigned as the School Resource Officer at Queen Creek High School since January 2023. My goal is to provide a safe and productive environment in which the students can thrive. 
Close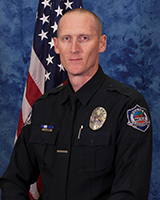 Austin Lanter
Eastmark High SRO
Biography
About Austin Lanter
I have been a Mesa Police Officer for 15 years. I began my career in 2008 and I worked patrol in all four police districts for my first 5 years in the department. I am now in my fifth year as a school resource officer during my second time in the SRO Unit. I previously worked as the assigned SRO at Westwood High School (from January 2013 through December 2014) before running the Mesa Police Explorer post (now the Mesa Police Cadets). After four years back on patrol, I returned to the unit in January 2021 to take over as the assigned SRO at Taylor Junior High. In March 2022, I moved to Eastmark High School to be their second ever full-time SRO. I get the unique experience of working in the same school where my own children attend, and I have had the opportunity to coach girls basketball in my short time at Eastmark. My favorite part about being a school resource officer is being able to build positive relationships with students on a daily basis in a way that they may not otherwise be able to experience outside of school.There is no assignment in the police department that suits me better than school resource officer, and I plan on doing this until I retire. Go Firebirds!
Close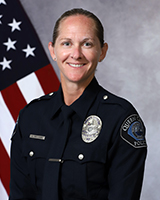 Katie Williams
Crismon High SRO
Biography
About Katie Williams
I am Officer Katie Williams, and I have been a law enforcement officer for 16 years. Throughout my career, I have served many roles, but being a school resource officer was where I found my true desire to make a positive impact on the youth. I am passionate about protecting, mentoring, and educating youth, and I am ecstatic to join the fantastic staff at Crismon High School as the school's first resource officer.
Close