Important Announcement from QCUSD Transportation Department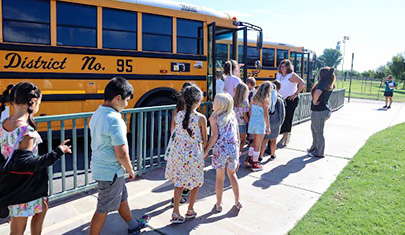 Although about a month left of school remains, many departments and staff members are already gearing up for the 2023–2024 school year. The QCUSD Transportation Department has worked hard to prepare a new bus registration process which will begin in the next school year.
For the coming year, families will need to register their student(s) if they plan to ride the bus and they must complete the registration form prior to the school year.
"This change will allow us to route the students who need rides more efficiently," says Director of Transportation Kruze Mingus. "This will help our Transportation Department to provide better service to our students and community."
As a result, families can expect bus stops to be closer to home, shorter bus ride times, and less changes to bus information throughout the year.
Bus registration for the 2023–2024 school year is now open and must be completed before July 10, 2023, for the first day of school. Please register online.
"This is a huge step forward for Queen Creek transportation," says Mingus. "This change will help QCUSD become industry leaders among our peers in the valley."
If you have any questions, please reach out to our Transportation Department by email or by phone at (480) 987-5982.
For more information about the Transportation Department, please visit the Transportation page today.