Jack Barnes Elementary Wins A+ School of Excellence Award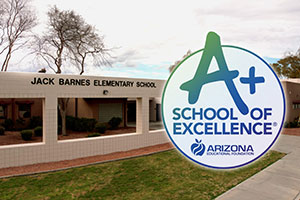 Jack Barnes Elementary (JBE) is now an A+ School of Excellence®. This recognition is the highest state-level award granted by The Arizona Educational Foundation.
JBE is one of just 36 schools across the state to earn the recognition this year. It comes after an extensive application process that involves submitting a written application which is then reviewed by a panel of principals, teachers, and district leaders. If accepted, judges then conduct a multi-day site visit.
"We are proud to add another A+ School of Excellence® to our district," said QCUSD Superintendent Dr. Perry Berry. "This award demonstrates the hard work and commitment of our administrators, teachers, and staff members."
"The A+ School of Excellence Award is significant as it sends a message throughout communities that the local neighborhood public school down the street is an exceptional choice, brimming with opportunities for students to learn and grow, and for faculty and staff to thrive," stated Kim Graham, AEF® Executive Director.
Principal at JBE, Dawn Kennaugh, says she is proud to see their hard work pay off and receive this meaningful award.
"This award recognizes the outstanding instruction and culture we have at JBE, letting our community and parents know that we not only have high expectations for ourselves and our students, but we meet and exceed those high expectations," she said.
To learn more about QCUSD's latest A+ School of Excellence®, please visit the Jack Barnes Elementary School website.
*A+ School of Excellence® is a trademark or service mark of the Arizona Educational Foundation and is used by permission.