Cultivating Leadership: Queen Creek Unified School District's Comprehensive Approach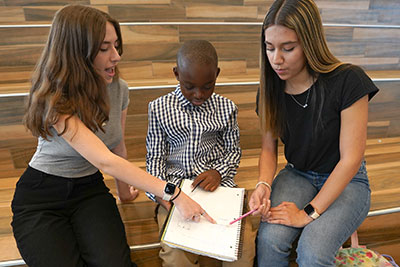 In the Queen Creek Unified School District (QCUSD), cultivating leadership is a priority and an effort that extends to all students and staff. This key focus on leadership development is present in the Advancement Via Individual Determination (AVID) program and dedicated early release days for educators.
AVID is rooted in all QCUSD schools. This program promotes empowering students to believe in themselves, persist through challenges, and take an active role in their learning. The program develops essential academic skills as well as instills self-advocacy and prepares students to take an active role in their school and community. AVID provides a framework for fostering leadership qualities that extend beyond the classroom, preparing students for success in the broader context of life.
To enhance the leadership capabilities of teachers and staff, the district allocates dedicated time for professional development and leadership training during early release days. These days provide teachers with valuable opportunities for workshops, collaboration with colleagues, and refining teaching modalities. The focus on professional growth ensures that educators stay up to date on best practices, creating a positive ripple effect on students' educational experiences.
QCUSD's approach to leadership development revolves around the AVID program for students and dedicated early release days for educators. This dual emphasis ensures that both students and teachers are equipped with the skills and mindset necessary for successful leadership in and beyond the academic setting.