Sixth Grade Honors Orchestra Concert Held at Crismon High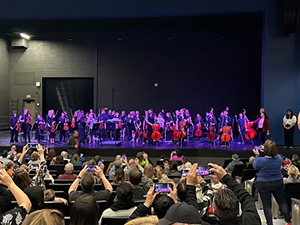 "In music, the best experience a student can have is doing," says Shannon Pizzirusso, a QCUSD music teacher. She helped orchestrate the district's first sixth-grade Honors Orchestra Concert. The goal was to retain orchestra students throughout their academic careers.
"We want them to see what it could be like if everyone sticks with it," said Pizzirusso.
Students were given the music for the concert back in December, giving them a chance to practice on their own before starting rehearsals in January. The group performed original pieces by various composers. However, the biggest challenge for this group of sixth graders was learning to get out of their comfort zone.
"Since students were coming from all nine elementary schools, they weren't used to playing in such a large group or sometimes even with the person sitting next to them," said Pizzirusso. "The students did a great job coming out of their comfort zones to play near people they were unfamiliar with…also being led by unfamiliar teachers."
Parker Shinpaugh, a sixth-grade student in QCUSD, participated in the concert, where he learned the importance of practicing.
"My biggest challenge was having to learn all our music in such a short and limited amount of time," says Shinpaugh. "But a highlight for me was being able to be there and play with everyone."