DME Classroom Project 'K'nex' Students to Engineering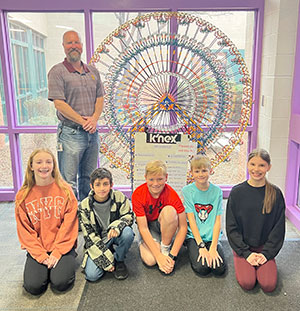 Five students from Desert Mountain Elementary teamed up on the ultimate group project. They built a six-foot-tall model of a Ferris wheel made of 8,551 K'nex pieces.
With no instructions aside from a picture guidebook, the group of students made a course of action, worked together, and divided responsibilities.
"Much of what we do [in class] is collaborative," said their teacher Seth Kaesler. "The only difference is that they were handed the kits and asked to figure out the best way to proceed."
The students faced a few setbacks during the problem-solving process, including rearranging, disassembling, and reassembling sections, all while trying to meet their deadline.
"The biggest challenge when making this wheel for me was putting the pieces together," said Jennifer L., one of the students who worked on the project. "Since the material was hard plastic and snapping the pieces together was difficult, we had to put a lot of time and work into building it."
Prior to the project, Kaesler held lessons on basic physics and brought examples of work for the students to understand how design and engineering work together.
"Something we learned while building the wheel was the physics behind it," said Talin M., another student who helped on the wheel project. "For example, the centripetal force is the force that acts on an object moving in a circle around something, or in this case, the axis of the Ferris wheel."
The ferris wheel is currently on display in Desert Mountain Elementary's lobby and can be seen during the school's upcoming parent conference.