Former Teacher and Student Now Work Together as Mentor and Teacher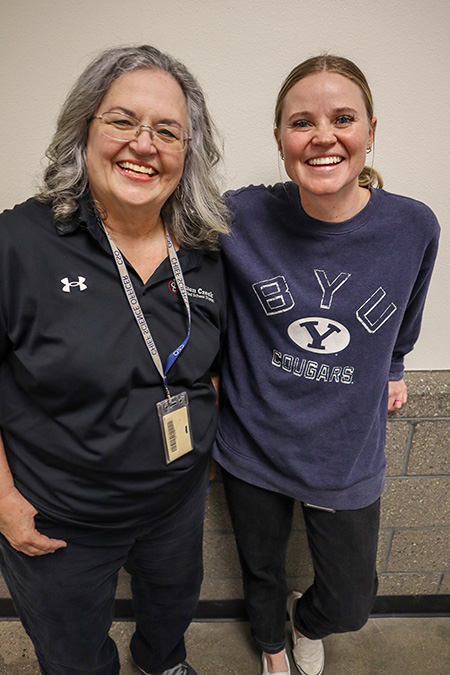 It is always heart-warming to see the success of QCUSD alumni and the career paths they take after graduating. There have even been a few who have returned to our district to now work in our schools. But it is a rare moment when a former QCUSD student returns and works with their former teacher.
LaFawn Berry, who currently works as the academic science coach for the district, taught seventh-grade science at Newell Barney Junior High. It was there she taught Sydney Caldwell. "I estimate I have taught around 5,000 students in my teaching career, so I don't remember every one of them," said Berry, "but I do remember Sydney."
She commented on how Caldwell's eagerness to learn and to help others understand science is what helped her stand out amongst others. For Caldwell, her time in Mrs. Berry's class inspired her to learn more about science. Some lessons she remembers the most are learning about the rock cycle and our solar system. "[Mrs. Berry] always made science fun," said Caldwell. "I remember looking forward to her class because she was so passionate about the topics and [she] created a positive classroom environment."
Caldwell attended Jack Barnes Elementary, Newell Barney Junior High, and then Queen Creek High here in QCUSD. She graduated in 2015 and continued her education at Brigham Young University where she studied exercise science. She graduated in 2020. She is now a junior high teacher and has had opportunities to work with her former science teacher. "LaFawn has great ideas to share with my classroom of seventh-grade science students here," said Caldwell. "She is a great advocate for science teachers in the district and always provides us with opportunities to succeed." 
From teaching her as a student to now being her academic coach, Berry feels a sense of pride seeing Caldwell choosing a career in science. "I have such a passion for science education, and I am so glad to have someone like Sydney at QCUSD," says Berry. "She is a huge asset to our science team. Sydney is definitely a positive force for good in her classroom."   
Caldwell currently teaches seventh-grade science at Crismon High School. 
To learn more about the science program in QCUSD, please visit our Science Department page.