NBJHS Host Robotics Competition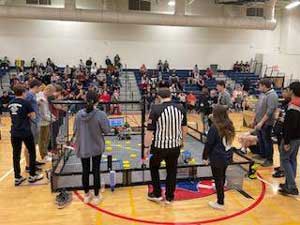 Students and teachers from across the state met at Newell Barney Junior High (NBJH) for a robotics competition last weekend. The NBJH Robotics Club competed alongside 35 teams during the Robotics Education and Competition Foundation event.
NBJH robotics coach John Poirier worked with the foundation to bring the event to the school.
"The Robotics Education & Competition Foundation is a global group that seeks to spark interest in STEM by engaging students in hands-on, sustainable, and affordable curriculum-based robotics programs," says Poirier.
Student participants were judged on skill components including robot driving, structure, and engineering plans. Judges also interviewed the teams as part of the judging process.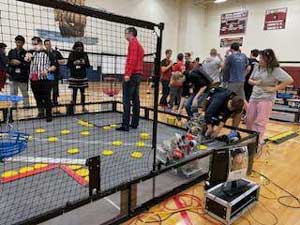 Poirier commented on how the competition is just another part of the learning process for students.
"The teams at these events are in continuous learning and troubleshooting mode until the end of their day," said Poirier. "Each event offers an opportunity to see what other teams have done with the same standardized set of VEX Robotics parts and gets each team thinking about what they can do better for the next event." 
NBJH Robotics team is set to compete to qualify for our regional championships in February 2023.