Students Participate in Advisory Meetings at the District Office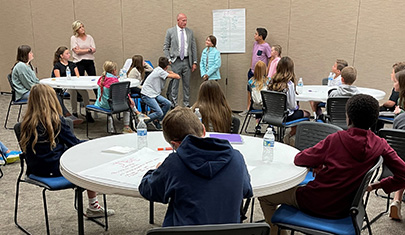 Every year, a group of students meets with Superintendent Dr. Perry Berry to provide feedback about QCUSD schools. This opportunity allows students to have an open discussion with the superintendent as a member of the Student Superintendent Advisory Council.
"This experience will help me want to change and improve my schools," says Ruby Brown from Jack Barnes Elementary. "I learned about different things from each school. Difficult problems and good things we had in each school."
"One thing I realized at this meeting is that there is always room for improvement," said Eastmark High Student Jared Hinton. "But it is important to see the good and appreciate what we do have while still trying to improve as we move along."
Principals select the student participants to represent each grade level beginning in fourth grade. The council traveled to the district office for lessons in leadership and feedback sessions with Dr. Berry. Students had the opportunity to discuss what was working well in their schools and what was needing improvement.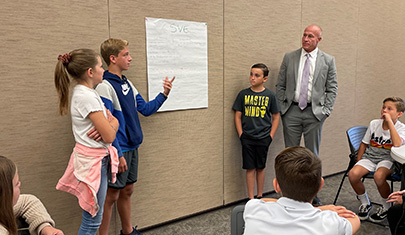 "Sometimes we hear things and learn things that we don't always know about," said Dr. Berry while discussing leadership principles with the students. Student feedback was shared with district leadership and school principals to provide guidance in future planning.
Students were also able to tour the district office to get a closer look at how the district operates.