QCUSD Schools Honor Patriot Day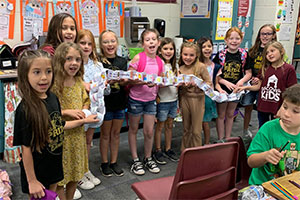 Across the Queen Creek Unified School District, each school participated in their own way to honor Patriot Day. While each school in QCUSD teaches students about the history of Patriot Day, many of the schools also held assemblies, spirit days, and other special events to acknowledge the importance of remembering.
Schnepf Elementary School students created appreciation signs for first responders and were able to show their signs to local firefighters and police officers in the Queen Creek Community. Queen Creek Junior High students created a patriotic flag design with their handprints which they then displayed on the front area of their school. One class from Jack Barnes Elementary created a paper chain with the words "We Remember" on them. Another class from Faith Mather Sossaman Elementary created Patriot Day artwork and answered the question "Why do we remember Patriot Day?" Queen Creek High School honored military and first responders during one of their football games. The field displayed a patriotic design on the QCHS's Bulldogs logo and the American flag raised high in the sky from a fire truck ladder.
Patriot Day activities are one way QCUSD teaches all students the importance of honoring and remembering those who protect our community, our state and our country.