Pearl Harbor Survivor and WW II Veteran Visits DME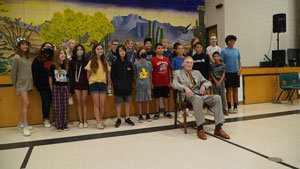 Students from Desert Mountain Elementary (DME) received a special visit from World Ward II veteran, Jack Holder.
A distinguished World War II veteran and one of the few remaining Pearl Harbor Survivors, Jack Holder was a United States Navy flight engineer. He flew well over 100 missions including the infamous 1942 Battle of Midway, Guadalcanal, the English Channel, and the Bay of Biscay on the west coast of France.
When he received an honorable discharge in 1948, Jack Holder took with him 36 medals and commendations which include two distinguished flying cross.
Holder told DME students about his experience in the Navy and the Great Depression. Students had a chance to ask him questions after he told his story.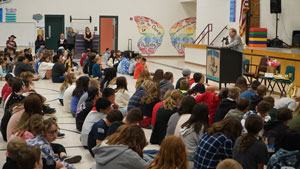 "I am amazed by how much work and sacrifice Jack put into protecting our country and other people, says DME student Mack Larson. "He must have been so scared to go through Pearl Harbor and Midway, but he did that because he believes in what our country stands for and for freedom. I am so thankful for Jack and all of the people that are serving our country."
Mya Mendoza, another DME student, mentioned how impactful Holder's stories were on her. "Knowing about his history inspires me because I, myself, have always wanted to go to the military. I'm also happy he went out and fought for our country," says Mya.
Jack Holder is set to celebrate his 100th birthday on December 13, 2021. To send him a birthday card, please address them to:
Jack Holder
C/O Darlene Tryon
PO Box 11094
Chandler, Arizona 85248