QCUSD Announces New Principals for Two Elementary Schools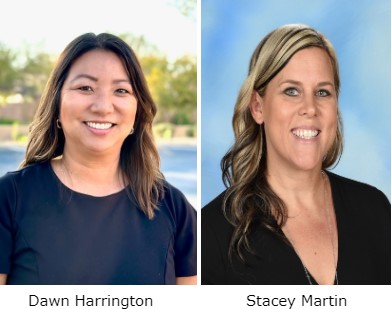 The Queen Creek Unified School District (QCUSD) Governing Board and Superintendent Dr. Perry Berry have announced new principals for Frances Brandon Pickett Elementary (FBPE) and Katherine Mecham Barney Elementary (KMBE). Stacey Martin will lead the award-winning FBPE, and Dawn Harrington will lead KMBE, the accelerated school of choice. Both new principals will start in the 2023–2024 school year.
Martin has worked in public education since 2005 as a teacher, coach, and administrator within the Higley Unified and Chandler Unified school districts. She has served in Chandler for the last five years as a dean and assistant principal. Martin earned her bachelor's degree from Baylor University and has masters degrees in elementary education and educational leadership.
"QCUSD is an excellent district," said Martin. "I am thrilled to now join all of the exceptional educators within Queen Creek in our work to educate our children."
Harrington joins QCUSD with more than 16 years of experience in public education. She has served as a teacher, school improvement specialist, and assistant principal. She earned her bachelor's degree in elementary education from Arizona State University and her master's degree in educational leadership from Northern Arizona University.
"I am honored and proud to be the next principal of Katherine Mecham Barney Elementary and to be joining the Queen Creek Unified School District," said Harrington. "I will lead with a commitment to ensure all of our staff and students feel safe, cared for, and are given the opportunities to realize every one of them has genius!"
"We're proud to welcome Stacey Martin and Dawn Harrington to QCUSD, and we're looking forward to seeing them lead our students and staff to continued success," said QCUSD Superintendent Dr. Perry Berry.
Both principals will begin their new roles in July.