CTE Month: Five Things You Didn't Know About CTE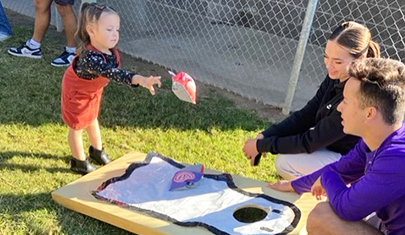 Career and Technical Education (CTE) programs are designed to engage students in relevant experiences to help prepare them for a competitive workforce.
From many career path options to gaining life skills, here are some fun facts about QCUSD's CTE programs that you may not have known before:
Students can earn certificates
Students participating in CTE programs have the opportunity to earn industry certifications as they complete the program(s) of their choice. In Arizona, studies show CTE students who earned a certificate have a higher chance of continuing their education after high school graduation.
CTE students have a higher graduation rate
During the 20-21 school year, studies show students who enrolled in a CTE program were more engaged, graduated high school at higher rates, earned industry-recognized credentials, and had rewarding and family-sustaining jobs. In fact, CTE concentrators (students) in Arizona have a 95.1% graduation rate, compared to non-concentrator Arizona students, who have a 76.4% graduation rate.
CTE Students have a better chance of being placed in postsecondary education
CTE concentrators are slightly more likely than non-concentrators to enroll in postsecondary education and are just as likely to earn a degree or certificate. In the 2020-2021 school year, 76% of CTE high school students in Arizona received Post-Program Placement, with 45% continuing their education to earn a credential, certificate, or degree.
Health Science topics are the most popular CTE Classes
Although each high school in QCUSD provides different CTE opportunities, there is an overwhelming demand for health science classes within the district. For all three of our high schools, 24.6% of students have enrolled in health science-related CTE programs.
QCUSD offers more than 20 CTE Programs & Clubs
There are numerous CTE classes students can take to enrich their education and plan for their future. Some of these classes range from media, health, woodwork, and computer sciences.
Students can also continue their CTE experience with CTE clubs and organizations. QCUSD has had five students serve as state officers for local career and technical student organizations in the last five years:
2018–2019: FFA (Future Farmers of America)
2019–2020: FCCLA (Family, Community, and Career Leaders of America)
2020–2021: DECA (Distributive Education Clubs of America)
2021–2022: ITS (International Thespian Society)
2022–2023: FBLA (Future Business Leaders of America)
To learn which CTE programs are offered in QCUSD, click the links below!