Culinary Students Take On C-CAP Harvest Moon Feast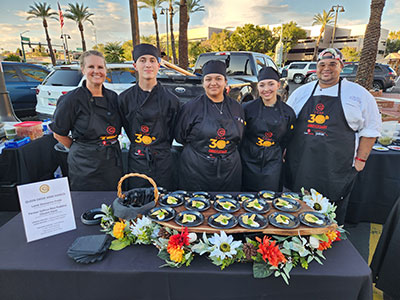 The culinary students at Queen Creek High School never take a break from cooking! This fall break they cooked, baked, and continued to educate themselves to improve their skills at the Harvest Moon Feast. Three students from Queen Creek High School participated in an event where they practiced these skills with the help of professional chefs.
The Harvest Moon Feast is where many of the Careers through Culinary Arts Program (C-CAP) students hone their skills. It is a workforce development nonprofit that provides undeserved teens a pathway to success. Many programs from all different schools showed up, and the Bulldogs represented with pride.
During the event they received mentorship from Chef Owens from the Queen Creek Olive Mill. From this mentorship they were able to advance their skills in food preparation, off-site event planning, and food service gaining hands-on experience and serving over 300 event attendees.
The culinary students will continue to achieve success by participating within the community receiving mentorship and taking on new culinary challenges in and out of the classroom.