Queen Creek Unified School District Schools Honor 9/11 Remembrance Day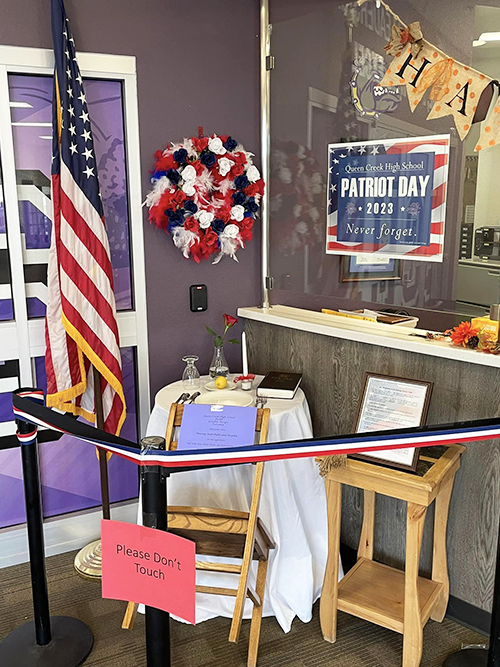 Every year on September 11, the United States observes a day of remembrance to honor the lives lost during the tragic events of September 11, 2001. This solemn occasion, known as 9/11 Remembrance Day, holds great importance in our nation's history and plays a crucial role in schools across the country. It serves as a poignant reminder of the resilience of the American spirit and the importance of teaching the next generation about a pivotal moment in our history.
Queen Creek School District (QCUSD) students and schools participate in assemblies, spirit days, and art projects in remembrance of 9/11.
Schnepf Elementary (SES) had a first responders appreciation parade and breakfast as a thank you for putting their lives on the line to keep the community safe. Students held up signs expressing their appreciation as the first responders greeted students with high fives and fist bumps. To finish off the event, an emergency helicopter landed on the field, and students had an opportunity to explore the inside to see how it's used to help people.
Queen Creek High School (QCHS) set up an adaptation of the "Missing Person Table" to memorialize those who lost their lives in the 9/11 attacks. The table held objects that symbolize the lives and sacrifices made by those who gave up everything to defend and honor the victims of 9/11 and our country. 
QCHS senior Shawn Kurcsics is the Battalion Commander of the Junior Reserve Officers Training Corps (JROTC) and helped set up the "Missing Person Table" at the school. Kurcsis explained the significance of the "Missing Person Table" as a long-standing Army tradition, typically displayed at military ceremonies and events. 
"It's a tradition that honors the fallen servicemen and also firemen and police," said Kurcsics. "I find it very important to remember days like 9/11 because it impacts the way we are living now. It is especially important to say thank you and to remember those who fell."
QCUSD will also honor all who serve on Veterans Day. Be on the lookout for events from your neighborhood school, and connect with them today!