Queen Creek Unified School District 2022–2023 Highlights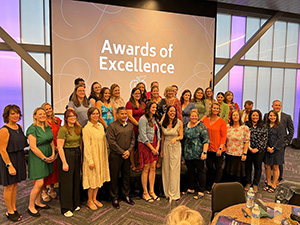 This year our district saw milestones in many areas as we opened our new high school, received recognition for existing schools, and as our students achieved great things in their academic and extracurricular pursuits. Here are some of the highlights from the 2022–2023 school year:
Queen Creek Unified School District (QCUSD) welcomed more than 150 new teachers to the district this year as enrollment continues to grow. 
QCUSD opened Crismon High School, surpassing expectations with more than 1,000 students enrolled.
Jack Barnes Elementary received the A+ School of Excellence award from the Arizona Educational Foundation.
QCUSD earned the certificate of excellence for its annual comprehensive financial report (ACFR).
Superintendent Dr. Perry Berry received the Changemaker Award from School Connect, recognizing his work in connecting district leaders and initiatives with community organizers and stakeholders. 
14 QCUSD teachers earned more than $17,000 in grant money.
11 QCUSD athletics programs placed top 10 in the state, with Eastmark High School (EHS) football winning the 3A state championship.
44 student athletes signed on with colleges and universities across the nation.
Seven QCUSD music programs achieved superior ratings at multiple music festivals across the state, as well as first and second place rankings in national competitions.
The Queen Creek High Thespians ranked second in state and fourth in the nation for National Qualifiers for the International Thespian Festivals.
319 QCUSD students completed technical skills assessments, many obtaining certifications that will enhance their future careers.
QCUSD seniors were eligible for a total of more than $42.4 million in scholarships.
QCUSD students' college readiness benchmark scores exceeded the state average by 15% in math and 17% in ELA.
Over 700 QCUSD seniors graduated this week.