Kindergarten Round-Up: What You Need to Know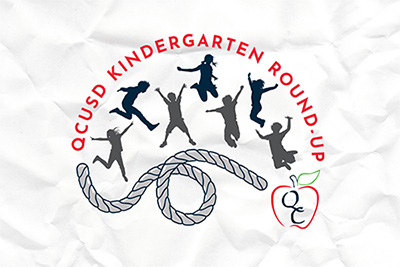 QCUSD parents and students are already preparing for the next school year. That includes setting the stage for the next wave of kindergarteners, many of whom will be experiencing the classroom setting for the first time.
Kindergarten Round-Up presents a unique opportunity for students to see what kindergarten is like before the new school year starts. "It's a sample to find out who we are," says Corey Rislund, a kindergarten teacher at Frances-Brandon Pickett Elementary.
During Kindergarten Round-Up, incoming kindergarteners and their parents have a chance to tour the schools, explore classrooms, and see how the kindergarten teachers interact in a classroom setting. Parents also attend a special presentation to learn more about transportation, curriculum and procedures, child nutrition, and the health office.
This year, Kindergarten Round-Up will be held on two dates for parents to choose from: February 9 from 4:00 p.m. to 6:00 p.m. and April 20 from 5:00 p.m. to 6:00 p.m.
If you are interested in attending Kindergarten Round-Up for your neighborhood school, please visit our Boundaries Map and type in your address to find out its location. If you are interested in learning more about Kindergarten in QCUSD, visit our Kindergarten page today.