How QCUSD Schools Plan to Honor Veterans Day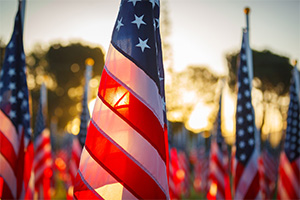 Across the district, students and staff will be honoring the dedication and sacrifice of our veterans. These special events include assemblies, musical performances, and parades. Take a look to see how each QCUSD school will be honoring Veterans Day:
Desert Mountain Elementary
DME will hold an outdoor assembly on November 9 featuring veterans and a music performance.
Frances Brandon Pickett Elementary
A Veterans Day assembly during the day and night on November 10 will honor those who serve. The school choir will be performing at the concert, and classes will be making signs and cards for those that served. Veterans will be invited to attend.
Gateway Polytechnic Academy
GPA will hold a special assembly in the gym with fourth graders performing for invited veterans. They will then transition to the cafeteria for a breakfast sponsored by the school's PTO.
Jack Barnes Elementary
A Veterans Day concert will be on November 10. It includes a picture slideshow of staff, families of students singing, and families of staff who served in the armed forces. Those in the audience who are veterans will receive a small token of appreciation.
Katherine Mecham Barney Elementary
A Veterans Day assembly will take place on November 10. The assembly celebrating veterans involves all KMBE students. Veterans from KMBE's families and community will attend a breakfast with students in the library after the assembly.
Queen Creek Elementary
There will be a Veterans Day assembly on the morning of November 10. The QCE choir will be singing a song, as will the entire school. QCE will serve breakfast to veterans after the assembly.
Schnepf Elementary
Schnepf will host a Veterans Day assembly on November 9. All students will be involved with songs and artwork. The school will be flying a WWII USS Arizona Memorial flag from Pearl Harbor during the month of November on campus. Pearl Harbor survivor Jack Holder will also be speaking to fourth through sixth-grade students later in the month on November 21.
Silver Valley Elementary
SVE fourth graders will perform a Veteran's Day performance, with breakfast served afterward. Students will make and hand out "thank you" cards as the veterans arrive.
Newell Barney Junior High
A Veteran's Day ceremony will be on Thursday morning, November 10. NBJH will invite veterans from students' families and the community to attend a breakfast served in the library. Each veteran will receive a shirt and a certificate. A wall with all the veterans' names, information, and pictures will be set up. This all takes place in front of the school.
Queen Creek Junior High
QCJHS will be writing letters to a deployed unit of a former teacher, along with sending wristbands. The school will be placing small flags in front of the school. All students will gather in front of the school for the flag ceremony and the pledge.
Crismon High School
CHS will recognize all veterans/staff members with a slide show of their service with pictures streaming on all large TVs and marquees. We will showcase the slideshow throughout the week. Students and staff will wear red, white, and blue on spirit day Wednesday and will also place multiple flags throughout campus.
Eastmark High School
EHS will be hosting a luncheon before the football game for all EHS, GPA, and SVE veterans on November 11. EHS will recognize veterans at halftime, with one veteran doing the coin toss.