Love Our Schools Day 2022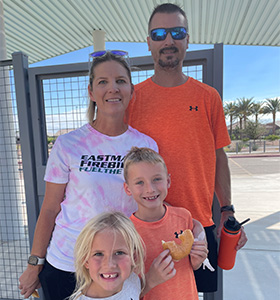 Student and parent volunteers come together every year to work together on special projects for our schools. It's called Love Our Schools Day. Check out what each school did this year to help make them better than ever!
Crismon High: Revealed the new library and held a book drive, games, and supply donations. Wrote thank you cards to staff and faculty.
Faith Mather Sossaman Elementary: Cleaned school, landscaping, and shared creative drawings and positive messages with chalk on the walk.
Frances Brandon Pickett Elementary: Full campus clean up, wrote bucket filler notes, and made repairs to the garden and flower boxes.
Gateway Polytechnic Academy: Worked on a mindfulness pathway located within their schools.
Jack Barnes Elementary: Painted basketball courts, made cards, and cleaned up the campus grounds.
Katherine Mecham Barney Elementary: Placed umbrella holders on the sidewalk. Cleaned the campus and wrote thank you cards for staff members.
Queen Creek Elementary: Cleaned garden area getting it ready for lessons and a place for students to read and learn.
Queen Creek High: Washed windows and school vehicles, re-painted crosswalks and gates, raked all the gravel, cleaned bleachers, and cleaned and disinfected tables in the cafeteria.
Schnepf Elementary: Planted 80 marigold flowers which represent each Schnepf staff member.
Silver Valley Elementary: Cleaned up trash on campus
Newell Barney Junior High: Students and parents cleaned the staff break room/workroom. Students also wrote positive messages to teachers and made posters to make our school look better.