Arizona Cardinals Inspire Schnepf Elementary Students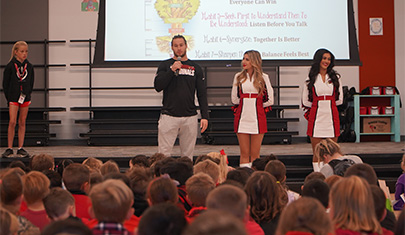 What better way to learn to pursue your dreams than to listen to those who are living theirs? The Arizona Cardinals inspired Schnepf Elementary School students to put in hard work at an assembly on Tuesday, October 26. Linebacker Dennis Gardeck and two cheerleaders, Vanessa and Emily, spoke about their journey to the team and the obstacles and challenges that led to their success.
"The discipline every single day is the hard part," said Gardeck, comparing the daily training and coaching to the advice and encouragement of teachers in the classroom.
Students attended the assembly as part of a school-wide Leader in Me program that teaches the seven habits of leadership to students throughout the year.