School Facilities Oversight Board Tours QCUSD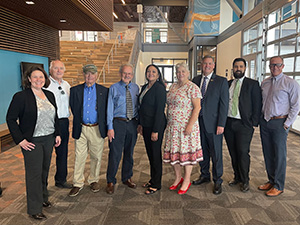 On August 3, members of the School Facilities Oversight Board (SFOB) visited the Queen Creek Unified School District (QCUSD) to learn about the growth in our community and the school district.
The members were taken on a bus tour where they learned about how district enrollment has grown 148 percent in the last 10 years, and is now one of the fastest-growing locations in the country.
"This was a good opportunity to show people that might not be familiar with QCUSD what our needs are firsthand," says Jim Lamb, Executive Director of Operations and Construction in QCUSD. "The members of the SFOB are not from the QC area. Some are even from outside of the valley. Unless you see the growth firsthand, you might not believe it is actually real."
The SFOB is a state agency that provides oversight and funding for school facilities. The SFOB has helped fund the construction and purchase of land for Eastmark High, Silver Valley Elementary, and Crismon High.
For more information about the SFOB, please visit their website.