QCUSD Goes Back to School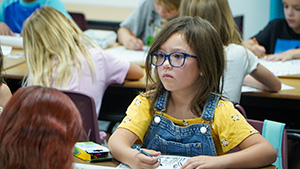 Students, staff, and teachers are returning to school in Queen Creek Unified School District.
QCUSD is welcoming over 14,000 students to its schools, including over 1,000 students joining the newest high school in QCUSD, Crismon High School (CHS).
"I am excited. I have never been to a school this big," said CHS 9th grader, SaraJane Burningham.
Teachers and staff have been preparing for the first day of school through training, team-building activities, and workshops within their schools and within the district.
"I am looking forward to sharing my passion with new and returning students, and watching the connections they make with one another," says Kimberly Rutherford, who has been teaching in QCUSD for 15 years.