QCUSD Welcomes Over 150 New Teachers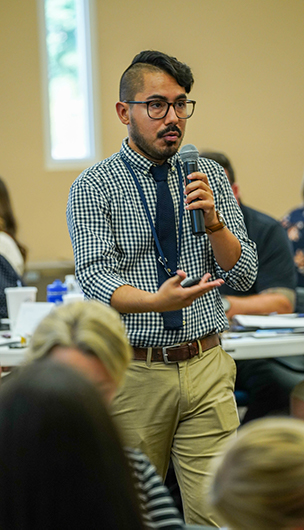 Queen Creek Unified School District hosted New Teacher Orientation for the 2022-2023 school year and welcomed over 150 new teachers into the district. New Teacher Orientation kicked off at the Queen Creek Performing Arts Center, where they were introduced to the QCUSD Administration team, principals from the schools, and even several members of the QCUSD Governing Board.
Mallori Enard, a new 4th-grade teacher at Silver Valley Elementary, came to QCUSD to be part of the community. "When you have that small town feel, the kindness and the people that come with it makes it great," said Enard. "I am super excited to do hands-on activities, the different types of lessons and projects you can do that are not just limited to one subject."
Afterward, the new teachers attended workshops about AVID, classroom management, and the different resources available in the district.
Ted Steinbrecher has been teaching band for over 40 years. While originally teaching in Pennsylvania, he moved to Arizona where he took a job in substitute teaching. "I really started to miss teaching," said Steinbrecher. "I thought I was going to sub again until I saw a position open up at the last minute…I am very happy to be here."
All teachers, both returning and new, will be in attendance at each school's Meet the Teacher Night. To learn when your school's event is happening, please visit our Meet the Teacher page.