Career Panels in Queen Creek Unified School District: How Career Exploration Prepares Students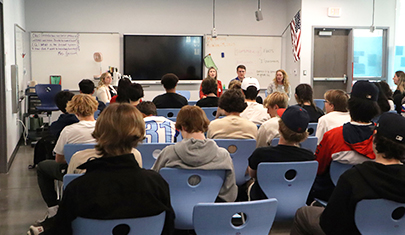 High school is a stepping stone to the next adventure in a young person's life. It is a time of academic exploration that will help shape their future and prepare them for post-secondary education. Each high school in Queen Creek Unified School District (QCUSD) held a full day of career exploration called Career Day for students to attend. 
Students rotated to different discussion panels with professionals speaking and answering questions about their professions. Some of these fields included business, construction, nursing, marketing, and many more. 
"Students get an idea of not only skills they should work towards but also goals they can make," says QCUSD academic coach and Career Day panel host, Jenny Dompier. "In addition, they can learn what's happening in our community and what they can do now in high school to better prepare for their career in the future." 
Hearing directly from professionals who have hands-on experience provides students with real-world insights. The volunteer professionals also share their journeys, challenges, and the rewards of their careers. These stories and experiences help broaden the horizons of students, as they discover fields they may not have ever heard of before.
Aidan B., who is a tenth grader at Crismon High, explained how the career day has helped him see the opportunities and paths that lie ahead for him.
"Before I came here I kinda had no idea of what to do," says Brooks. "I'm kinda back-and-forth on some things. I got done with the architect panel, and I actually kind of like the whole idea of it. From applying yourself to having a good work ethic…Career Day [helped] me see the possibilities and to use that knowledge and information to make a decision." 
Aside from these career days, high school students can access additional career information from their school's Career and College Center. Each center is designed to help with career exploration and post-secondary education options.
To learn more about your high school's College and Career Center, please visit one of the links below.