Teachers Become the Students This Summer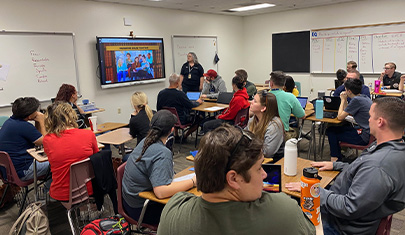 Over seventy teachers are seeking to continue developing their skills in this year's Summer Development Program. This summer program is completely voluntary, offering workshops and seminars tailored to the participating teacher's grade level or subject area. The hours spent attending these workshops will go towards a teacher's recertification. 
"Education is like many other professions," says Paul Gagnon, Advancement via Individual Determination (AVID) program coordinator. "We have continuing education hours we're required to get to maintain our licenses." 
Although professional development classes take place during early release days throughout the school year, attending a summer development class gives teachers a better chance to reflect, apply, and plan before implementing what they have learned. "It's a better opportunity to learn because the brain can focus on what is being taught instead of worrying about class the next day," says Stephen Watkins, Educational Services director. 
Programs are offered through a variety of methods. For example, kindergarten through second grade teachers can participate in the district's phonics program to learn new systematic educational tools to teach young students how to read. 
For teachers within the AVID program, 59 educators are attending the AVID Summer Institute in San Diego, a three-day event with over thirty topics to choose from. Teachers can also add hours from webinars hosted by the Department of Education to their recertification.  The Summer Development Program will start May 30 and end June 21.