Graduation Checklist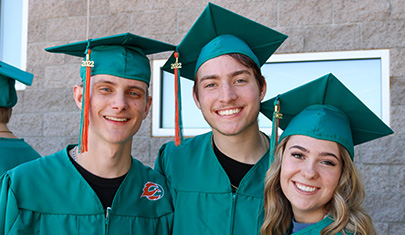 Graduation is less than three weeks away and the anticipation is in the air! But there seems to be so much to do…outfits, pictures, sending out announcements. Here are some tips to help make your student's graduation smooth and memorable. 
Return all books, devices, and tools
Failure to return any overdue library books, electronic devices, or tools can result in an ineligibility to walk at graduation. If there are any late fees or payments, be sure to take care of them as soon as possible. Your graduate's guidance counselor or advisor will be able to help if your graduate is unsure. 
Arrive early
This goes for both the graduates and their families. It is recommended to arrive 30 minutes to one hour early. Arriving early allows enough time to find parking and provides a buffer for unexpected delays such as long lines for entry or traffic. Also, arriving early shows respect for the ceremony and ensures that graduates are present and ready to participate in the procession.
What to wear
Although your student will don a graduation cap and gown, they will want to look their best for photos and post-graduation plans. Professional attire, including shoes, will ensure your graduate looks back on the day without regret.
Graduation party
After throwing the cap, the exciting night continues with an after-graduation party. Be sure to ask your graduate where they want to celebrate their graduation and who they want to invite. Now is the time to send invitations to those out-of-town guests so they can plan to make the trip. Discuss your graduate's plans and expectations for staying safe and responsible after the event.
Write "Thank You" notes
As graduation cards and gifts come in, be sure your graduate is keeping a list. Have them express gratitude by sending out thank you cards to each sender. They can write their appreciation for the gift and add specifics to the note (love the color of the flowers, will use the money for college, etc). Generally, it is best to send thank you notes as soon as your graduate gets a gift, but this can also wait until all the graduation festivities are over and done.
Reach out to graduation administrator for accessible seating
For Eastmark High's Graduation, reserved spots for family members in need of assistance or wheelchair accessibility are available for the graduation ceremony. Please be sure to reach out to EHS's Graduation Administrator prior to graduation to reserve your spot. Email your student's name, their name, and how many members are in their family. 
For Queen Creek High's Graduation, no reservation is necessary. ASU is wheelchair accessible. For more information, visit the ASU Graduation Accessibility Seating page.