3 Tips for Riding the School Bus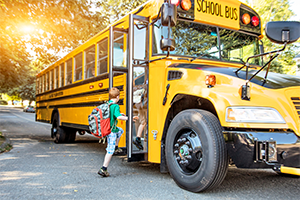 The school bus is undoubtedly one of the most recognizable vehicles we see on the road. They're designed that way. School buses are 70 percent safer than other vehicles, and an estimated 25 million children ride them each day! When it comes to getting to and from school safely, buses are a great option, but there are still things you and your child can do to ensure every ride goes smoothly.
Whether it is their first time riding, or they are already pros, here are some tips to help your student be ready to ride the school bus:
Know where and when to wait for the bus.
Always arrive five minutes early. School bus drivers have to stick to a schedule in order to pick up students and get them to school on time. Have your student stay at least ten feet away from the pick-up area until the bus comes to a complete stop and the driver motions for them to board.
Not sure which bus stop to use? Check out the bus routes map. Type in your street address, zip code, and the grade of your student.
Talk to your child about the importance of bus safety.
This is especially important for students who are riding the bus for the first time. There are a lot of students on the bus and it is important for each student to do their part to be safe. Read the QCUSD Bus Rules and Regulations to know what to share with your student.

Arrive on time when your students are coming home.
If you meet your student at the bus stop at the end of the day, please be on time. Students cannot leave the bus unless their guardians accompany them.