QCUSD Holds Annual Spelling Bee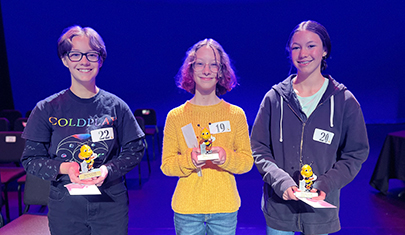 The annual district-wide spelling bee was held at the Queen Creek Performing Arts Center, with 38 students participating this year.
Each elementary school and junior high school held its own spelling bee competition, where the top three winners then proceeded to the district-wide competition.
This year, three junior high students placed in the district's spelling bee. Adelina Leon from Queen Creek Junior High placed third, Madeleine Killebrew from Crismon High placed second, and Lena Sorensen from Queen Creek Junior High won first place.
Prior to the district competition, Sorensen had never participated in a spelling bee until she tried for the one at her own school.
"I had to practice spelling the words, practice them every night, and even on the bus ride to my school," says Sorensen. "I would spend two or so hours every week studying and practicing."
Sorensen also expressed her shock and excitement about winning the district-wide spelling bee and looks forward to proceeding to the state-wide competition in February.