Meta Partners with QCUSD Robotics Programs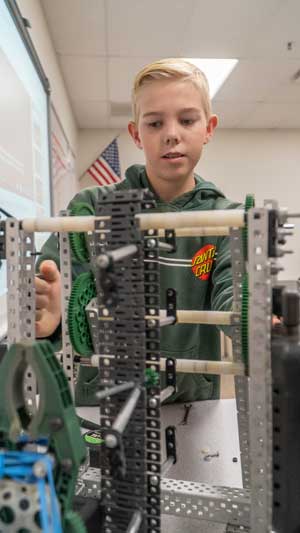 Students in the Queen Creek Unified School District will receive a big boost from a new business partner.  Meta, the parent company of Facebook and Instagram, is donating $55,000 for junior high robotics programs.
"This generous donation will create unique opportunities for our students, and we are thankful for their partnership," said Superintendent Dr. Perry Berry. "We're especially thankful to Meta Community Development Regional Manager David Williams, who worked closely with our Director of College and Career Readiness Heidi Lee, to establish this partnership."
Meta's donation will support the district's work in robotics education and improve STEM learning and the student experience. Robotics teacher at Queen Creek Junior High Michael Larson says the partnership will help develop future tech leaders.
"This will help grow our programs and bring new students into the realm of technology and engineering. Thank you Meta for investing in the education of the Queen Creek community!"
We will use money from the donation to purchase robotics kits and ensure students have interactive engineering opportunities at all district junior high schools.