National Scholarship Month - Tips for When You Apply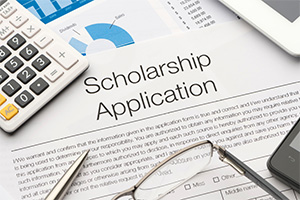 By College and Career Specialists in QCUSD
With so many options to choose from, it can be overwhelming to apply for college scholarships. College & Career Specialists in the district's high schools have provided tips on how to stay organized and to better your chances of getting the scholarships you need:
Gather and save important content in a folder.
You can easily do this on your Chromebook with folder titles such as Transcript, Letters of Recommendation, Activity Resume, FAFSA SAR report, and any essays. Use the PDF format, as most applications will require this for uploading. This will enable you to quickly apply for a scholarship without having to hunt for all the standard documents.
Use templates to draft essays.
You don't need to create a unique response for every application if you use "templates." Create a Google Doc and use it to draft answers or essays for your applications. Save each one as you go. Eventually, you will have a great collection of polished answers to the typical scholarship questions. For future applications, adjust something you have already written to fit the word count and any other differing requirements.
Check the criteria.
Make sure you fully fit the criteria for the scholarship. If you don't (ex., you have a 3.49 GPA, and it requires a 3.50 GPA), skip it and move on to the next scholarship. Close doesn't count in this case. If you don't meet the eligibility, you are wasting their time and yours.
Review your application.
This seems obvious, but the application can have complicated instructions, and your answers will be part of your evaluation. Make sure you double AND triple-check your application before hitting "Submit." Did you include all the required items? Did you leave anything unanswered or blank? Did you proof the spelling and grammar? The details can make a difference between you and the next candidate being selected for the award.
Request letters of recommendation early.
Some applications require letters of recommendation. Think carefully about who should write these letters and choose people who can speak to your strengths and ability to overcome your weaknesses (letters from family members are generally frowned upon). Give your recommenders no less than two weeks' notice, so they have time to write the letter. Be prepared to provide them with additional information about yourself or the scholarship. Make sure to follow up with your recommender to confirm the submission of your letter.
Apply ASAP.
When is the best time to start applying for scholarships? Now, yesterday, tomorrow? The best time to start applying for scholarships is as soon you have time, and before the deadlines of the scholarships you hope to win.