Building a Foundation: How Crismon High Is Building Athletic Culture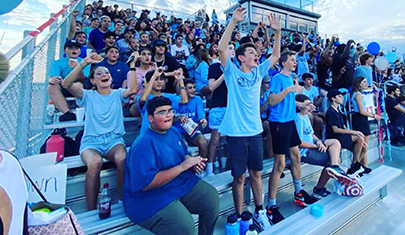 With the opening of Crismon High, sports are part of the newest, and one of the most exciting, events to happen at the new school.
Athletics kicked off in this first season with volleyball, golf, baseball, spiritline, and football. While the new CHS teams have already played their first game, it is also a time of building traditions and culture. "What we are hoping to accomplish is to build a culture for all athletics," says Corbin Smith, the football coach for CHS. "[It] revolves around passion, excellence in and out of the classroom, accountability, empowerment, discipline, and growth."
Volleyball coach Andrew Yamashiro also shares the hope of building upon the foundations that CHS students set today. "We want to instill a competitive mindset where we are ready to play any team regardless of how established they are," says Yamashiro. "We want players to believe Crismon is a great place to be and want them to be excited to be a future Rattler."
As coaches build and expand their programs, they are also building relationships with other CHS sports teams and students. For spiritline coach Kaitlin Cloud, this will be the focus for the students. "This year's focus is…building on a relationship with the football and basketball programs, community service projects, and bridging the gap between the student body and spiritline during sidelines and assemblies to bring the energy and school spirit," says Cloud.
To stay connected and see upcoming games at CHS, please visit the CHS Athletics website.