QCUSD Remembers Frances Brandon-Pickett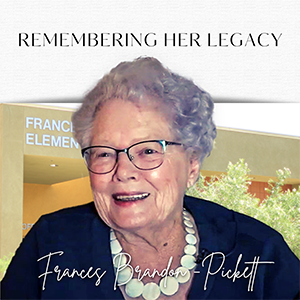 We at the Queen Creek Unified School District are saddened to hear of the passing of Frances Brandon-Pickett and offer our deepest condolences to her family and all who loved her. Brandon-Pickett was a member of one of the founding families of Queen Creek, a teacher, an artist, and a lifelong supporter of our schools. We are honored to have one of our elementary schools as her namesake, and it will surely carry on her legacy in every student who attends.
Frances Brandon-Pickett Elementary Principal Brian Butson remembers meeting her when she came to read to students. "The family has strong values deep-rooted in the community. That's something that we try to bring out in our school. We have always appreciated the support of her and her family."
QCUSD Superintendent Dr. Perry Berry says he's thankful for the founding family's support for Queen Creek Unified Schools, and their shared values and commitment to education will live on.
"When Frances Brandon-Pickett Elementary opened in 2005, it just made sense to honor someone so fundamental in Queen Creek schools. Over the years, she continued to be a genuine community partner and supporter. Her painting hangs in the school lobby, a gift that showcases her talent as an artist. She is part of our history and will forever be remembered."
Services will take place on Saturday, August 20, 2022, at 10:30 a.m. at Bueler Chandler Mortuary located at 14 W. Hulet Drive, Chandler, Arizona 85225.