Partners & Players: The First-Ever Game Between Queen Creek High and Eastmark High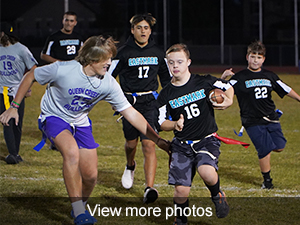 For the first time ever, Queen Creek High School and Eastmark High School competed against each other. While some may consider it a rivalry against the only two high schools in the Queen Creek Unified School District, this game of football focused on unifying all types of students.
The two schools participated in a unified football game, which includes students who run plays, known as players, and students who help them during the game, known as partners.
This relationship between the partners and players has not only made playing football fun but also broke stereotypes, allowing everyone to see the abilities of each team member.
"The surprising part of Unified Sports, that even surprised our peers," says Robert Foley who coaches Unified Sports at Eastmark High, "it was kind of an eye-opener for some of our students. There may be some disabilities but besides that disability, there is a physical ability that's pretty advanced sometimes."
McKenzie S., a junior in the district and one of the partners, commented on how Unified Sports have helped her and helped others see their potential.
"I like that I get to play football which I can't do anywhere else, and I like that I get to help others know you can still play this sport no matter what," says McKenzie.
One of the players, Jaxson C., says he loves playing the game with his friends.
"I love football. I'm really good at it and also baseball," says Jaxson.
Both teams are set to start a Unified Football Tournament this week and look forward to playing each other again.